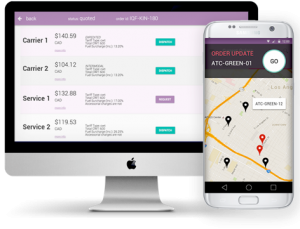 Technology when you want it; People when you don't.
Working with Mosaic Logistics' Managed Services solution gives your logistics team the resources needed to scale your freight operations to levels simply not available from any other transportation service provider.
We supply our clients with a proprietary cloud based TMS to manage all aspects of their freight operations and a live team of logistics professionals to step in when you need the personal touch.
Our Clients' experience:
Automated Paperwork – Create, Manage and Send documents from one place in seconds
Managed Carriers – Manage all of your carriers and rates from one place, yours and ours!
Dispatching & Tracking – Single click dispatching and tracking updates all from one screen.
Audit and Pay – Easily audit and manage all freight invoices; saving the accounting department hours upon hours every week.
Communication – Easily send your customers' shipment updates from inside the software. Have a quick question? Use the chat inside our TMS to talk to our staff instantly.